Tools
The Number Cruncher (aka Profit Center Financial Planner) is a geeky Excel worksheet that will help you make more money.
Many small business owners find it difficult to determine how much salary they need to take and how to price for profit.
The Number Cruncher takes out the guesswork and allows you to run your business based on facts.  It is comprised of seven different sections to help you make a personal budget and determine your salary, create budgets for your different business expenses, determine your income, and take a look at your sales goals and overall financial outlook.  The seven sections are:
1 – Personal Salary Budget Calculator
2 – Four Budgets: Advertising/Marketing, Education, Props/Accessories, Assets
3 – General Expenses
4 – Cost of Sales Checkup
5 – Break-Even Analysis
6 – Sessions and Sales
7 – Income and Expense
Who will benefit from this? Any small business owner who already has working knowledge of the three types of expenses and understands managerial accounting basics.  If you'd like a more in-depth look at how to run your business based on the numbers, we recommend the Profit Center DVD (the Number Cruncher download and tutorials are included at no extra cost.)
The great thing is that this is applicable to ANY type of small business!  Top business colleges in the US and abroad teach the same information so you know this isn't just something that works for us – it's the foundation for all successful small businesses!
Order the Online Download Version and save money on shipping/handling!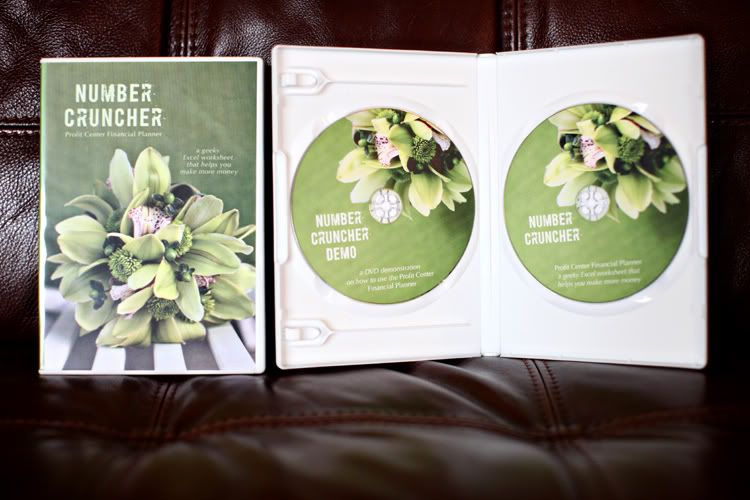 Once purchased, you will be registered for the Photo Biz Boot Camp Forum within 48 hours, which gives you access to the online tutorials and downloads.   You download the tool that can be used in Microsoft Excel, Numbers for Mac, or Open Office Calc Spreadsheets.   Then simply log into the forum (we send you and email on how to access) for the link and password to watch the tutorials.  Liana shows you how to use the Number Cruncher using her own numbers as an example.
Not sure what to get?  If you order the Number Cruncher then decide you want to get the Profit Center DVDs to learn more, we'll hook you up and subtract what you've already paid for the Number Cruncher!
Already attended a Photo Biz Boot Camp or have the Profit Center DVD?  Simply log into the forum to download the Number Cruncher and access the demos!