In any small business, there are THREE essential tasks necessary for keeping your "numbers" on track: Tracking Your Income, Planning Budgets and Future Income, and Pricing to be sure you're Profitable.
CLICK HERE FOR PART I on TRACKING
CLICK HERE FOR PART II on PLANNING
Today brings us to one of the most complex parts of this series, PRICING.
There are three ways to price: Cost-Based Pricing, Competitive-Based Pricing, and Demand-Based Pricing.  Because we're in a day and age where everyone and their brother, sister, cousin, mom's-best-friend, and next door neighbor is or wants to be a photographer – it's important to use a combination of all three pricing methods.   If you understand your true costs and what your markups should be, have taken in to account your specific market and the competition therein, and have a grasp on your perceived value – then you are on the path to pricing right.  Obviously, it's not that simple.  I cannot fully teach you how to price in a single blog post.  I can clue you into what you need to learn and the research you should start with.
Cost-Based Pricing
Price with certainty by understanding the costs of running a business. There are industry standards and formulas that allow you to establish a structure to your pricing.  According to PPA's Studio Financial Benchmark survey, home-based studios should be running at around 30-35% Cost of Sales.  Studios with a store-front should be closer to 25% Cost of Sales, since they have more overhead.  What this means is that the respective mark-up factor should be 3-4x the Cost of Sales at minimum.
The most common mistake I see with cost-based pricing is not understanding ALL of your numbers first and how it correlates to your pricing.  I teach this in depth during Boot Camp and in the Profit Center DVDs.  You need to understand how the other costs in your business correlate to your Cost of Sales percent.  Most home-based businesses owners should get to keep about 30 cents of every dollar a client gives them.  I see some businesses who's pricing is so out-of-whack, and their overhead and/or cost of sales is so high that they don't keep ANY money!  Even worse, I've seen a handful of studios who are actually loosing money on every session they photograph because they've not done their pricing right.
Another mistake I see is not taking into account the TRUE cost of sales.  Cost of Sales is EVERYTHING that goes into producing a service or product for a client.  For example, when pricing an 8×10″ print there is much more included than just the $2.00 it takes to print the 8×10″ print.  It includes Photoshop retouching labor which at average is a dollar per minute for a pro to do this.  It includes labor and materials for pulling the file, processing, ordering, packaging, shipping.    So when I add up the TRUE cost of 8×10″ print it may be $15 vs $2.  Say I operate on a 25% COS.  That means my markup is 4x the COS.    Therefore, $15 x 4 = $60.  $60 is the minimum I should charge for for an 8×10″ print if I want to make a profit.  If your market cannot bear this or your brand equity is not high enough, you may have to look at alternatives (such as reducing costs, outsourcing print fulfillment.)
Here is a way to determine your mark-up factor.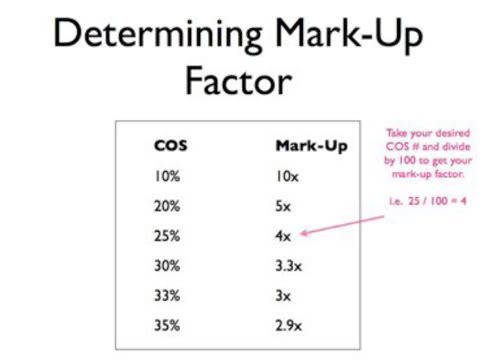 Competitive-Based Pricing
Takes into consideration the local, regional, national market you are in.  Recognizes that some products are more price-sensitive to consumers than others, therefore competition is a concern. For example, commodity items such as a 4×6" or 8×10" print are more price sensitive than items such as a large album or wall portrait.
I'd say one of the most common mistakes photographers make is base their pricing ONLY on this method.  They look at what others are doing in their city, and price the same way. The problem is, they have NO idea if their competitors are actually covering all their expenses!  Every business and person's finances are unique to them, so their pricing is likely going to need to be different too.
Demand-Based Pricing
What we also like to call "Brand-Based" Pricing. The greater the perceived value, the more you can charge.  If there are few providers you can charge more. The greater the market demand for what you offer – the more you can charge.
Obviously, wedding and portrait photographers are a dime a dozen these days.  So being the ONLY one in your market to offer something, or one of a few providers is no longer common.  You CAN however find something that sets you apart, have a clear and compelling brand and great business practices to back it up.  If people can see that you and your work is unlike any other, your demand goes up naturally.  You can charge more for your services and products.
Gauging your demand is the simple part.  If you're shooting 60 weddings each year, and you really only want to be shooting 30 – it's pretty obvious you can start charging more!
Now that you understand the different methods for pricing, what to do about it? First of all, I'd recommend going through the Tracking and Planning parts.  You cannot price properly until you have actual, factual numbers to deal with.  You will need to know your % ratios between Cost of Sales, Overhead, Asset Expense, and Owner's Salary.  You will need to have an annual sales goal and run your sessions and sales analysis to have goal numbers for how many photoshoots you plan to do.  Then and only then pricing via the Cost-Based method become simple.  You can use bundling and packaging to benefit both you and your clients.  In addition to this, you should be conducting local market research and take gauge of what you can do to improve your demand.  THEN it will be a unique balance of using the numbers, your research, and the direction you are going in to come up with the perfect pricing for YOUR situation.   Last, make sure it's easy and simple for clients to understand.  Present the information in a clear and well-designed manner consistent with your brand.
———————————————-
This series has raised a good number of questions.  Over the next few days I will work on some FAQ posts in response, since many are asking the same things.  Again, there are many other resources out there for learning more about Tracking, Planning, and Pricing.  Business schools and PPA teach the same exact information.  If you want to know specifics for the photography industry check out PPA or join us for a Photo Biz Boot Camp (BBC).  The Profit Center DVD is four hours of information on these topics plus more.  Plus it includes the newly released Number Cruncher!
We appreciate your comments, suggestions, and questions below.  Happy New Year and here's to making 2010 the best year yet!